At Galen Hope, we think that it is vital to work to understand the mental health needs within the LGBTQ+ community. A close inspection reveals some alarming trends, and some clear opportunities for intervention and increased support.
Multiple studies show that Lesbian, Gay, and Bisexual people are more than twice as likely to experience a mental health condition. And as the National Alliance on Mental Illness explains, people who are Transgender "are nearly four times as likely as cisgender individuals (people whose gender identity corresponds with their birth sex) to experience a mental health condition." That means that struggles with mental health are extremely common in the LGBTQ+ community—particularly depression and anxiety.
There are a number of factors that contribute to the prevalence of mental health conditions within this community—but perhaps the most pervasive trend has to do with rejection. A 2013 Pew Research survey found that 40% of LGBTQ+ adults surveyed reported "that at some point in their lives they were rejected by a family member or close friend because of their sexual orientation or gender identity." It seems rather obvious that rejection by family members and close friends could contribute to depression or anxiety—but that's not all. The same study found that over 30% of those surveyed "say they have been physically attacked or threatened."
Members of the LGBTQ+ communities are exposed to more trauma as a result of the stigmas about their identities than the broader population. The American Psychological Association explains that
Research shows that members of the lesbian, gay, bisexual, transgender, and queer (LGBTQ) community are more likely to experience potentially traumatizing events (Roberts et al., 2010), mental and physical health problems (Mimiaga et al., 2009), and discrimination due to their perceived sexual identity throughout their lifetime (Friedman et al., 2011; Katz-Wise & Hyde, 2012).
Further, the APA's study notes
that exposure to both impersonal and interpersonal potentially traumatic events were positively correlated with shame, depression symptoms, PTSD symptoms, substance use, chronic health conditions, and somatic symptoms. Impersonal, but not interpersonal, potentially traumatic events exposure was positively correlated with sexual risk behavior. Shame was also positively correlated with depression symptoms, PTSD symptoms, substance use, sexual risk behavior, and somatic symptoms.
In other words, there is a very real correlation between the trauma that this community experiences and the prevalence of mental health struggles they incur.
How you can help the LGBTQ+ Community
As upsetting as these trends are, there is some good news. Forbes reports that a major study in 2020 found that "Greater levels of support and acceptance is associated with dramatically lower rates" of mental health crises amongst members of the LGBTQ+ communities. While it certainly won't solve all of the problems, there is ample evidence to suggest that we ALL can help combat mental illness within the LGBTQ+ community. We are certain that acceptance, compassion, empathy, and access to quality mental healthcare are all ways that we can serve this vulnerable group of people—whether we are LGBTQ+ ourselves or not!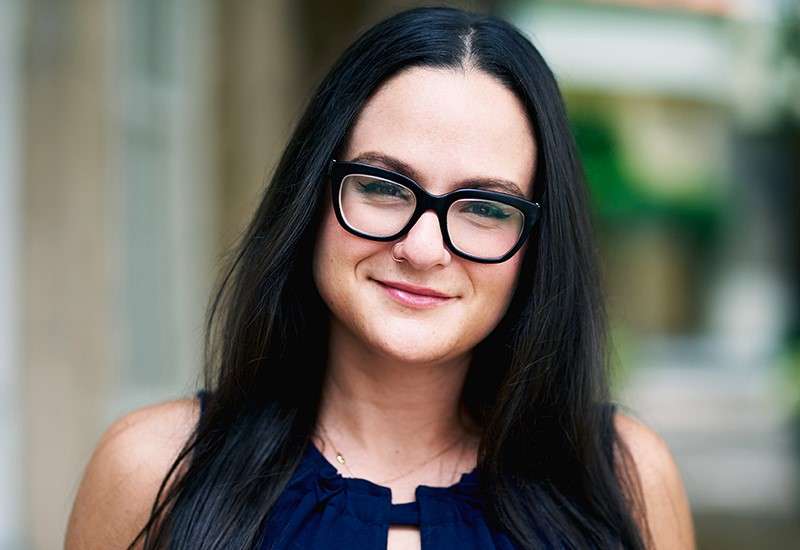 How Galen Hope Helps the LGBTQ+ Community
At Galen Hope, Daphne Pozo, DMFT, LMFT helps spearhead our efforts to be as inclusive of, and sensitive to the needs of, LGBTQ+ folks–including those whose identity falls outside of the gender binary. Recently, we sat down with Daphne to discuss what drew her to Galen Hope. She explained:
In my work as a therapist, one of my specialties is working with the LGBTQ+ community.  When I was interviewing for positions as a primary therapist, I always spoke about my work with the LGBTQ+ community and how important it was for me to find a workplace that valued my work.  Accordingly, it was very exciting for me when I interviewed with Galen Hope and found that they appreciated my passion for working with the LGBTQ+ community.  They encouraged me to continue my work through group therapy and individual sessions.  
Daphne continued to describe what she thinks Galen Hope does best when it comes to this particular community: 
Galen Hope is a place where clients who identify as LGBTQ+ can have a safe space to explore who they are in an affirming environment.  We nurture an atmosphere that is inclusive to all, regardless of gender identity and sexual orientation.  Clients can openly speak about their unique experiences, utilize their preferred pronouns, and express themselves according to their gender identity. 
If you or a loved one would benefit from mental health or eating disorder care that is inclusive and understanding, and where uniqueness is celebrated, then Galen Hope is the perfect choice.
Thank you for reading our blog on Mental Health and the LGBTQ+ Community!
About Galen Hope
Galen Hope, a mental health treatment center in Miami, Florida, provides comprehensive services for a wide range of diagnoses and related conditions, including: Eating Disorders, Anxiety Disorders, Borderline Personality Disorder, Dependent Personality Disorder, Mood Disorders, PTSD/Trauma, Psychosis and Thought Disorders, Schizoid Personality Disorder, and Substance Use Disorder. Our treatment integrates the best concepts of residential programs, partial hospitalization programs, and community psychology in order to provide an experience that not only feels uniquely meaningful to the client, but also breaks the cycle of repeated hospitalizations, over-institutionalization, and isolation from community and family.
To learn more, or to join our community, contact us here.